B'Tselem Supports BDS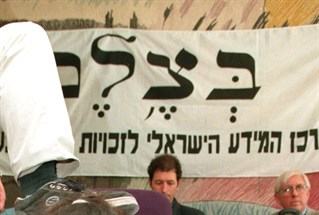 B'Tselem supports BDS. Read a report on this question by NGO Monitor.
× Recently, according to the Committee for Accuracy in Middle East Reporting in America (CAMERA), A B'Tselem photographer was involved in "staging" a scene in a videotape that purportedly documented misconduct by Israeli soldiers.
× B'Tselem is funded by the Philadelphia-based Bubbes and Zaydes for Peace (BZP), which endorses the BDS movement.
× The Human Rights Links on B'Tselem's website include these organizations that promote BDS:
× Adalah, which has maliciously charged Israel with breaches of international humanitarian law, war crimes, willful killing, racism, apartheid, and ethnic cleansing.

× Association for Civil Rights in Israel (ACRI) in its 2008 annual report described Israel's practices as "in many ways reminiscent of the Apartheid regime in South Africa."

× Arab Association for Human Rights (HRA) endorsed the July 9, 2005, Palestinian United Call for BDS Against Israel.

× Physicians for Human Rights—Israel states in its mission statement: "It is PHR-Israel's view that Israel's prolonged occupation over Palestinian territory is the basis of human rights violations."
× Among the donors listed on B'Tselem's website are BDS supporters Christian Aid, Ford Foundation,
DanChurchAid, and Trócaire.
× B'Tselem information director Lizi Sagie resigned as a result of statements made on her personal blog, including: "Israel is causing the greatest horrors of humanity… Israel proves adherence to the values of Nazism."