J Street Supports BDS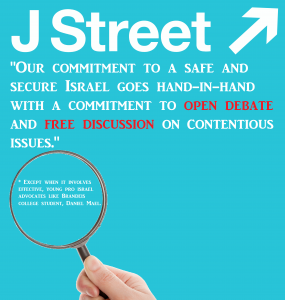 J Street supports BDS. Read a report on this question by NGO Monitor.
× In February 2010, J Street aligned itself with Churches for Middle East Peace (CMEP), whose website until recently featured "The KAIROS Palestine Document," which explicitly promotes Boycott, Divestment and Sanctions (BDS).
× J Street states on its website: "Barring proponents of BDS from participation in communal discussion or events is counterproductive and, more important, is a violation of our values."
× J Street conferences have been used to host and promote groups affiliated with the BDS movement, such as B'Tselem, Breaking the Silence, and groups that fund the BDS movement.
× "Colette Avital—a former member of Israel's parliament, from the center-left Labor Party and until recently J Street's liaison in Israel—told The Washington Times that her decision to resign her post with J Street earlier this year was a result in part of the group's 'connection to Judge Goldstone.' 'When Judge Goldstone came to Washington, [J Street leaders were] suggesting that they might help him set up his appointments on Capitol Hill,' she said."
All of these organizations, by way of their websites and programming, support, partner, or fund groups that promote the Boycott, Divestment and Sanctions (BDS) movement against Israel.
On the brochure for the 2010 Other Israel Film Festival, the JCC prominently listed its "partners"—the New Israel Fund, Human Rights Watch, J Street, and B'Tselem—without any offsetting financial remuneration from these groups. This is a direct contribution to the political activities of these organizations.
On October 16, 2010, J Street was given access to members of the JCC in Manhattan and the public in the JCC facilities, where they were provided with a table from which they were able to solicit new members for J StreetPAC, J Street's political action committee. They also distributed leaflets and a sample phone call script, and urged JCC members to contact their representatives in Congress.
On November 12, 2010, as part of the Other Israel Film Festival, the JCC hosted an event for the New Israel Fund's "New Generations and other young leadership groups" at the JCC inManhattan's facilities. This is a direct subsidy that allowed the NIF to recruit JCC members under the guise of a young adult social.